Aluminium and Copper Guttering Installations in Southampton
Seamless guttering provides a wealth of benefits for domestic and commercial customers in and around the Southampton area, and we're proud to have been a leading supplier of aluminium guttering and copper guttering systems for the past 40 years. Continuous Guttering cover all surrounding locations including Bournemouth, Salisbury and Winchester. As a company, we also specialise in the repair of uPVC guttering, soffits and fascias.
On this page, we look at our key services in detail. We want customers to have complete confidence whenever they choose us for guttering work in Southampton or the surrounding Hampshire, Dorset and Wiltshire areas. We're also happy to travel to locations nationwide for those who insist on using us as their go-to aluminium and copper guttering team.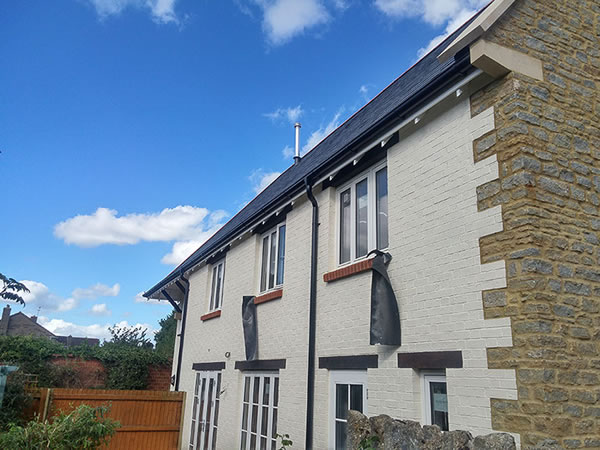 Aluminium Guttering
Choosing aluminium guttering for domestic and commercial properties in Southampton, Bournemouth, Salisbury, Winchester or anywhere else in our wide trading area is the best way to keep roofing and property exterior features free from damage. Aluminium guttering combines protection with a long lifespan, excellent aesthetics and minimal maintenance, and is regarded by our industry as being the most cost-effective guttering in our market.
Continuous Guttering arrive at properties in and around Southampton equipped for the job, and we use our own cutting equipment to create guttering to your preferred profile and dimensions. Bespoke seamless guttering minimises waste, is continuously formed to prevent leaks and comes with a series of unique customer benefits:
Installed in lengths of up to 70m – Twice as long as most guttering companies
Seamless aluminium guttering is joint-free and never leaks
Power-coated and scratch-resistant finish minimises the need for maintenance
Wide guttering catchment allows for increased water flow and capacity
Insurance-backed guarantees of 25 years are provided on every job
Aluminium guttering is made from 90% recyclable material
Seamless guttering is ideal for hotels and commercial properties
Our Southampton-based company can produce a wide range of colours
Copper Guttering
Seamless copper guttering provides many of the unique benefits associated with aluminium guttering, but is chosen by customers in our home town of Southampton and all parts of the surrounding Bournemouth, Salisbury and Winchester areas because it has a more traditional appearance which is perfectly suited to barns, oak building, period properties and listed properties. We can cut onsite, using our own machinery, in half-round and ogee profiles.
Because all seamless guttering from our company is custom-manufactured, property owners are assured of an accurate and secure fit with a more uniform appearance in comparison to sectional guttering. Customers in and around Southampton who opt for copper guttering still benefit from an unconditional and insurance-backed guarantee of 25 years.
Europe's preferred seamless guttering system with wide UK usage
Renowned for being fully recyclable and environmentally safe
Soldered joints prevent leaks and result in a maintenance-free installation
Adds charm and value to period and listed properties in the Southampton area
Perfect for larger residential properties, barns, hotels and commercial units
uPVC Guttering, Soffits and Fascias
While our services in the Southampton, Hampshire, Dorset and Wilshire areas are built around seamless guttering, our company also repairs and replaces uPVC guttering. Like aluminium guttering and copper guttering, uPVC guttering is backed by a long-term warranty and provides the customer with a low-maintenance installation. It is particularly suitable for new builds or current properties with a more modern design edge.
Continuous Guttering also replace damaged soffits and fascias, two vital roofline products which protect underlying structural elements and property exteriors from adverse weather conditions. Like all roofline products supplied to our customers in and around the Southampton area, soffits and fascias comes with guarantee of up to 15 years.
uPVC soffits and fascias maintain their integrity better than timber products
Vortex system of uPVC guttering helps to dispel winter leaves and debris
Variety of colours make uPVC roofline products perfect for most properties
Ease of installation cuts down on replacement costs for customers on a budget
Soffits and fascias protect the exterior and structure of your property.
Please note that Continuous Guttering have their own high access equipment. This helps the customer and saves money on having to hire in from external scaffolding or access companies. We are a genuine one-stop shop for every kind of guttering project.